I recently found the Warn drill winch selling for $122 on Amazon,
with a $30 coupon
that brought it down to $92.
At that price I thought it was worth a try and I decided to compare it to two other winching solutions that seem to be prevalent amongst Ural owners.
So I'll start off by introducing the competitors for this three way winch-off…
First up the venerable Maasdam A-20 3/4 Ton Rope Puller with 20 Feet 0.5-Inch Diameter Rope. There are a few variations with different weight ratings, rope length and some folks even like the cabled variety. The rope puller has a lot going for it. Once you figure out the levers and catches, it's not too hard to use.
PRO:
It's mechanical so it's simple.
Use any length rope.
¾ Ton Pull Load is more than enough to unstick a Ural.
At 7.6lbs it's the lightest of the contestants.
Portable, can pull from any angle, any bike.
CON:
Kind of awkward to store and put away, especially with more than 20' of rope.
Rope can slip in the puller mechanism when wet or mucky. And that's usually when you need winching the most.
Because it's mechanical, if you are injured or otherwise in dire physical stress, you won't be able to use it.
You may need to be on a slope or other awkward position to take advantage of the best/only attachment point, making it difficult to work the lever.
In this corner of the ring (triangle?) weighing in at 10.6lbs with a 500lbs load rating is the Warn 910500 Drill winch. This unit is about 10" square, with a big easy to grab handle on top.Operation couldn't be simpler. A big red knob on one side unlocks to spool out cable and locks it for winching. The other side has a stout hex shaft where the drill attaches. Drill to winch in, reverse to winch out. The spool has a brake and holds the load. The handle on top and the grip of the drill make for good control and during the test I was able to spool the cable back on the drum in perfect layers as I winched. It has a cast hawse fairlead which seemed to let the cable slip by with no issues that I could see.
I was also able to fit the Warn, two snatch blocks, a 6' x 2" sling strap, a 20' x 2" tow strap and two shackles in a 12' Harbor Freight or Husky tool bag. This makes for a complete winch and recovery kit in a bag.
You need to bring along a drill and some batteries, but I will discuss that in more detail below.
PRO:
Compact, complete recovery bag with attachments fits in trunk easily.
Easy to use. If you can drive a screw, you can use this winch.
Portable, can pull from any angle, any bike.
Weight was 10.6lbs. I'm calling this a pro because of the big handle it felt like the easiest of the three to pick up and move around.
CON:
Requires a drill of some sort and sufficient battery charge to work.
500lb rating is lowest of the three. It will pull most stuck Urals easily but a snatch block will be needed for some difficult pulls.
The last up is the heavyweight, both in actual weight (16.2lbs) and capacity (2,500lbs). The Harbor Freight 2,500 ATV winch can be had for $49.99 on super special sale and $59.99 most other times. If you don't have some sort of cradle or mount you will also need the $4.99 winch plate that holds the roller fairlead. I bought this over a year ago and never really came up with a good way to mount it on the bike or with a cradle system I liked.
Some folks seem to love a permanent front mount, some have mounted these so they can fit on the front or rear. I never liked any of the mounting options so it has just sat. I considered some sort of cradle that would make it portable, but life got in the way and just keeping my bike running was hard enough so it got moved down the list of priorities. For the test I just attached a shackle to the rear of the mounting plate, which worked well enough. This thing would not only free your Ural, it could free a large ATV or even a full sized vehicle in a pinch.
PRO:
Fast. This winch had the hands down fastest winch time of the test.
2,500lb load capacity makes it capable of dragging a Ural (or two. or three) over anything.
The remote was a nice feature, allowing one to step back to safety...or in my case find shade and/or stand at the strap and guide the cable onto the drum.
CON:
Heavy. At 16lbs for just the winch and control box and about another 10-20lbs of metal to mount it to the bike, it's a substantial amount of weight.
Mounted to bike you are limited in pull directions.
Used in a portable configuration it is awkward to move around and store.
In portable configuration because the winch leaned towards the motor side, the cable would not feed smoothly onto the drum. A big wrap formed on one end and gouged the side roller during the test.
It's Harbor Freight. Sometimes you get a winner with their stuff, other times, not so much. Not sure which this would be.
The remote and switch box add another level of complexity to the "things that can go wrong" category. I'd want a parallel manual switch system for when I lose the remote or the button cell battery dies.
Testing Time!
The test consisted of winching my 2016 mazda CX-9 up a slight grade for a 21' pull. This is almost three Ural lengths and in the majority of winching situations is more than enough distance to get a bike clear of a hole or obstacle.
I strung up the Maasdam first, spooled it out to the max usable length and put a piece of tape on the ground. Since the other winches all have more cable available, I wanted to make the distance equal for all.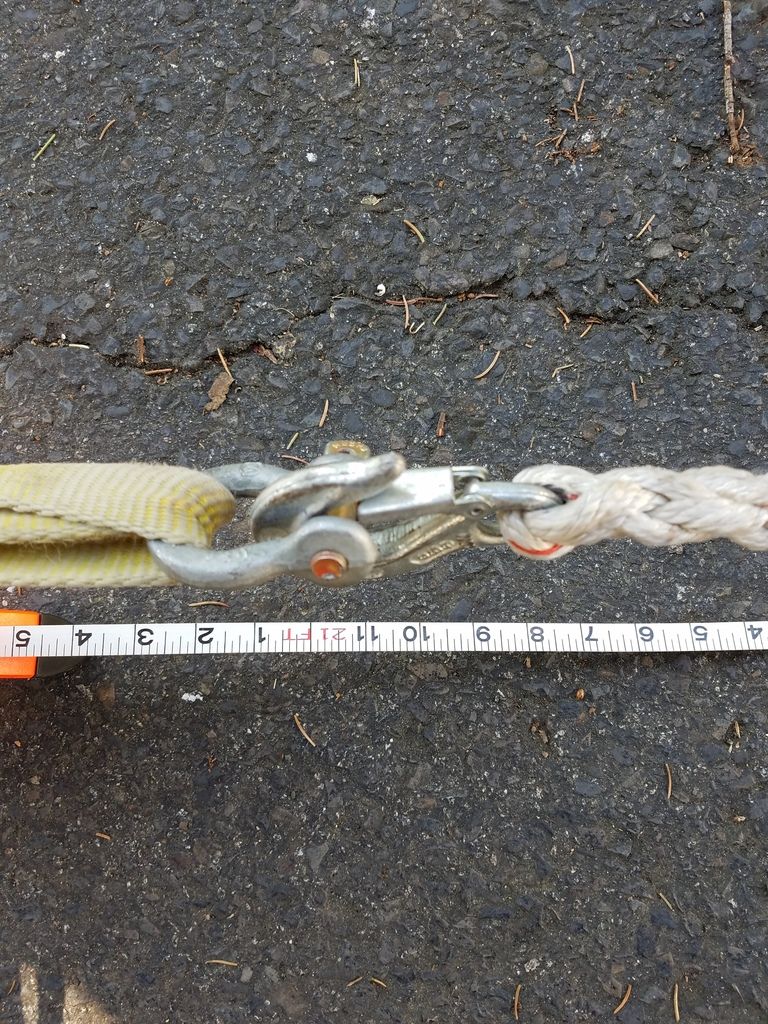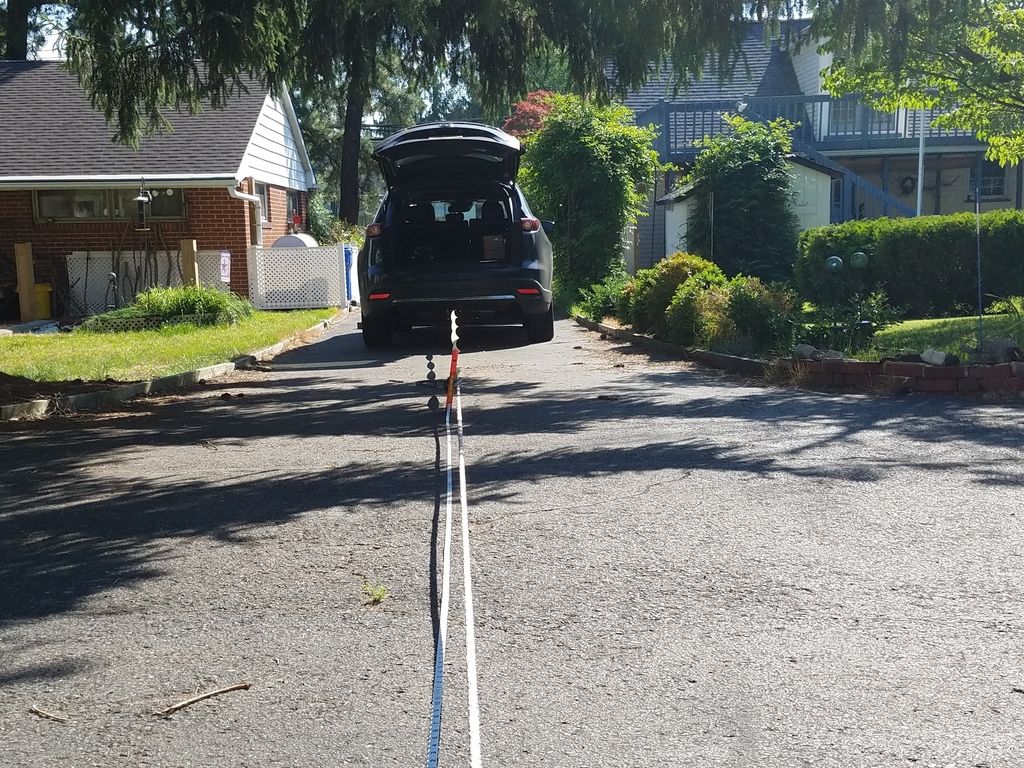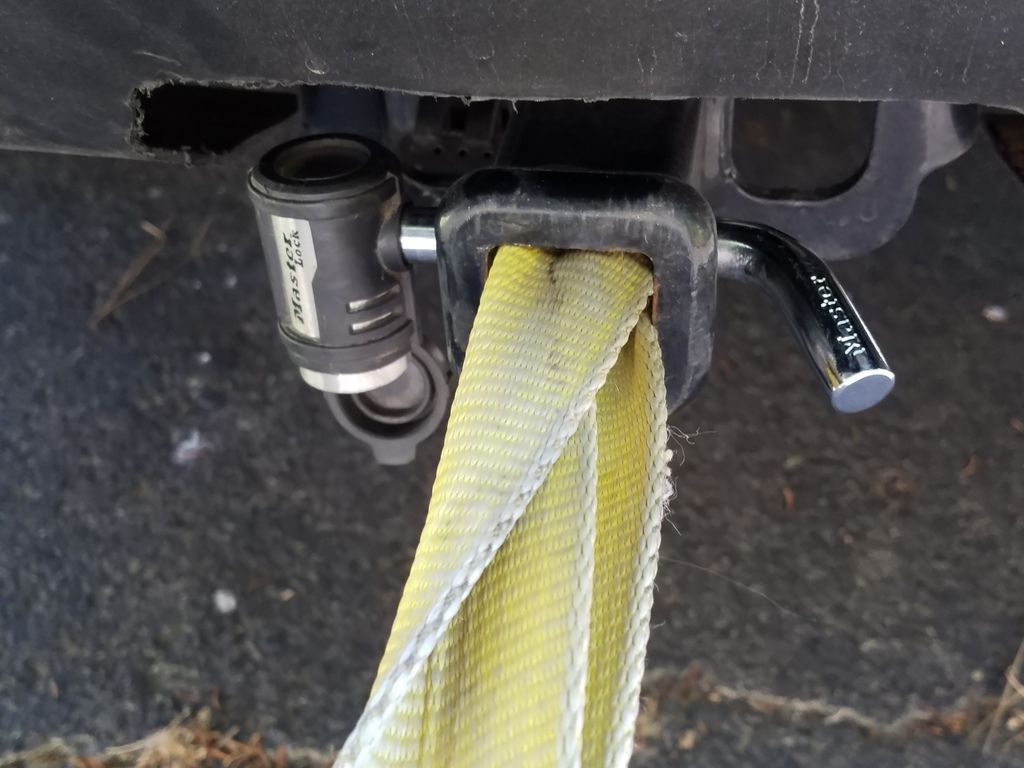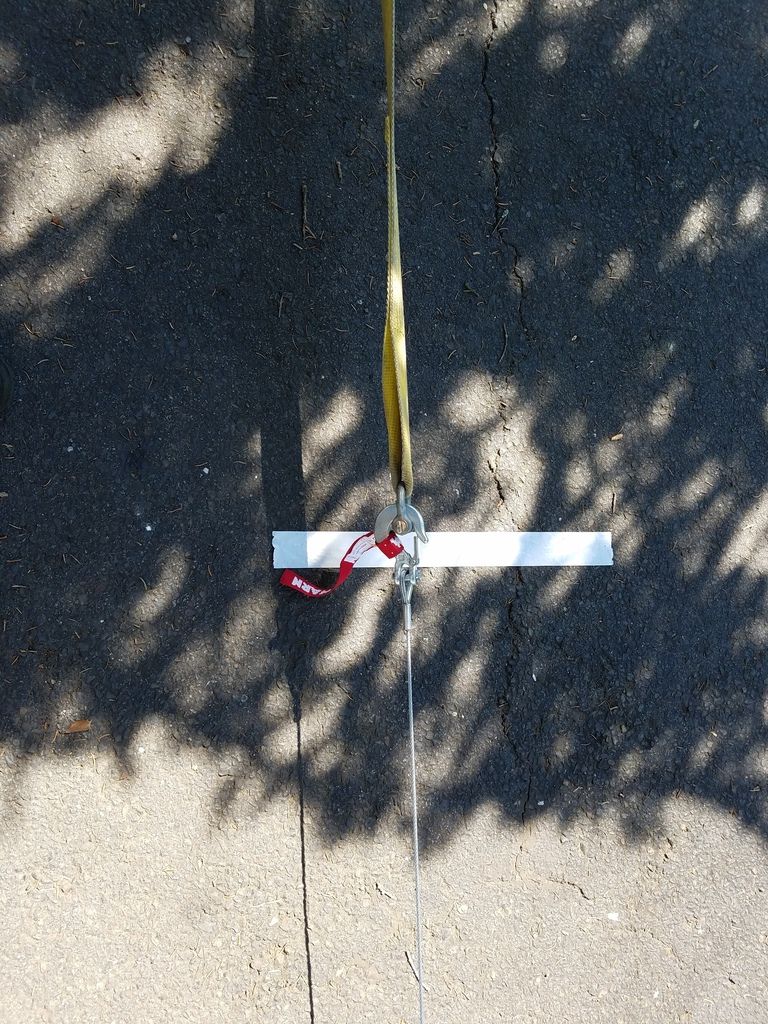 I know that the rolling weight of a full-sized car, even one with a 4300lb curb weight on asphalt isn't the greatest stress test, but it was all I had. Going out to the woods AND finding a hill AND carrying around three winches AND trying to make sure things rolled the same exact way each time AND struggling to unhitch/hitch up on an incline were all too prohibitively complex.
In my driveway I had tools handy, I could put a 4x4 across the drive so that with the car in neutral it didn't roll into traffic if something went wrong and it offered a nice flat reproducible surface as I timed each pull.
The anchor point is a 4" cast iron concrete filled pipe that previously support a basketball rim. It is sunk in a considerable amount of concrete and is now a permanent fixture in my yard. A 3' sling and shackle were used around the anchor and a 20' strap was used on the car. This put the car further down the incline and when I was at full pull, I didn't have the car on top of me at the winching point.
Pull #1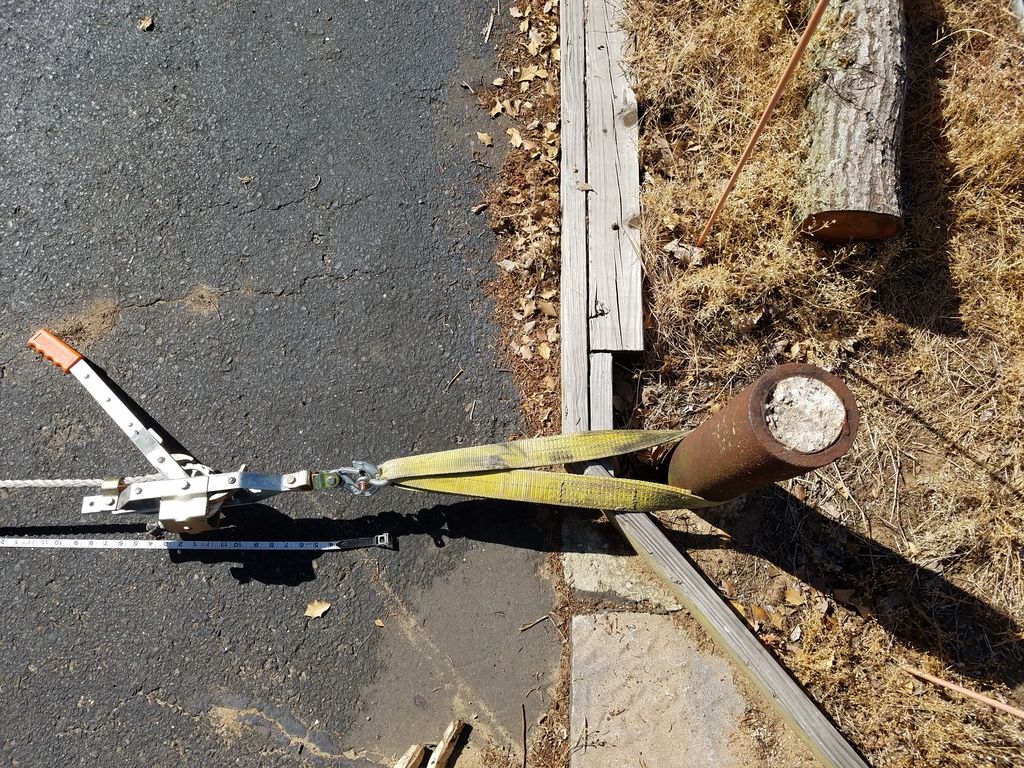 First up was the Maasdam. Might as well do that first while I'm fresh and energetic and before the day gets too hot. I was surprised at how fast the Maasdam pulled. It felt like forever but it was only 3'23". I looked like I was rowing a one oar boat while hooked on speed. With no spool to bind up, you don't have to worry about where the rope is going, just keep cranking! I was exhausted and sweating when I was done, but it moved the load at a pretty good clip. Because I had hooked up and driven the car down until the line was taught before putting in neutral, the Maasam benefited from starting with a tight line. In the real world, even when you pull the rope through to take up the slack, you end up spending the first few awkward cranks just getting the stretch out of the rope before you even start pulling on the load. If this had been the real world, the Maasdam would have been a little slower.
Pull #2
Next up was the Warn 910500. I did my first pull using an 18v Makita LXT drill with 3.0Ah battery that had been charged and cooled before the pull. This is a pretty torquey contractor-grade drill, so I wasn't expecting any issues and didn't experience any. It pulled smoothly and while it slowed down slightly at the end, I think this was due to the battery and motor heating up more than the load. As you will see, I did a second pull below with the same battery, without recharging and the time didn't change much. The Warn moved at a nice pace and is well balanced with the handle on top and using the drill grip, so I was able to direct the cable onto the drum in perfect layers. No need to unspool and rewind after winching, a nice time saver. The time for this run was 2'02".
Pull #3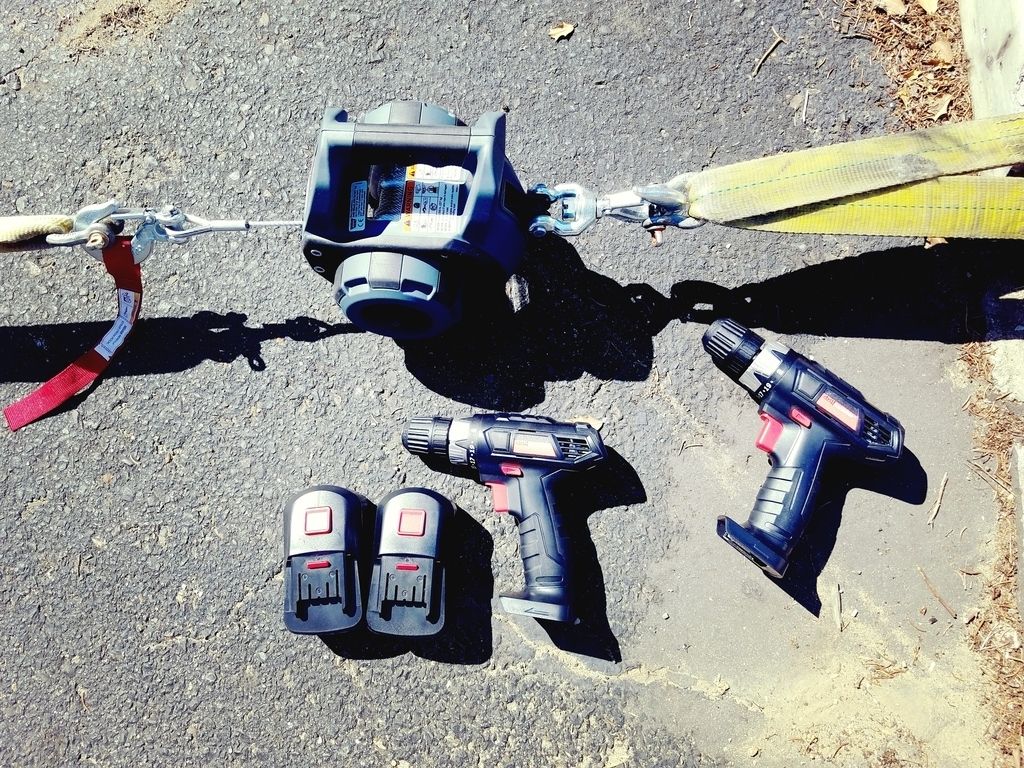 Since the Makita did the pull with no problem, I decided to see how a lower-grade drill would do. The only problem was, I don't own any cheap drills. I picked up a pair of Harbor Freight 18v drills for $16 EACH. At that price it was cheaper to buy two than to buy one and a spare battery. These are 1.3Ah batteries and I don't know what the motor is rated but it is clearly a smaller diameter and doesn't deliver nearly as much torque as the Makita. Not having confidence in this solution, I had both batteries charged and both drills at the ready for this test. It pulled noticeably slower form the start that the Makita. Also the housing was getting very warm on my hand as i winched. The first battery slowed to a crawl, I swapped to a fresh battery at 2'40" in a couple of seconds without stopping the clock and continued. At 4'43' the drill was very hot and the second battery was struggling and I stopped the test about 24" shy of a full pull. If I had switched out the entire drill, I suspect with a cooler motor it would have completed the test in about 5 minutes, including the time to swap drills. Note that while the HF drill didn't pull the full 21 feet, it still pulled 19 feet. I think one of these drills and two batteries would yield decent results in an off-road situation. Especially if the drill and batteries have time to cool down a little between pulls.
Pull #4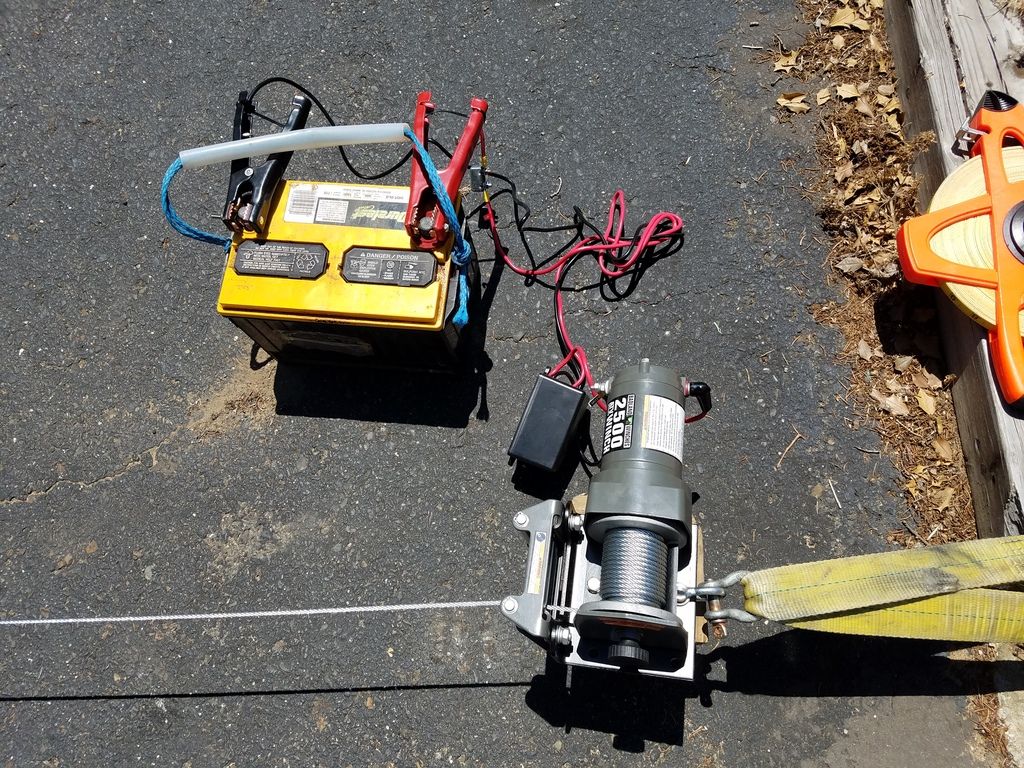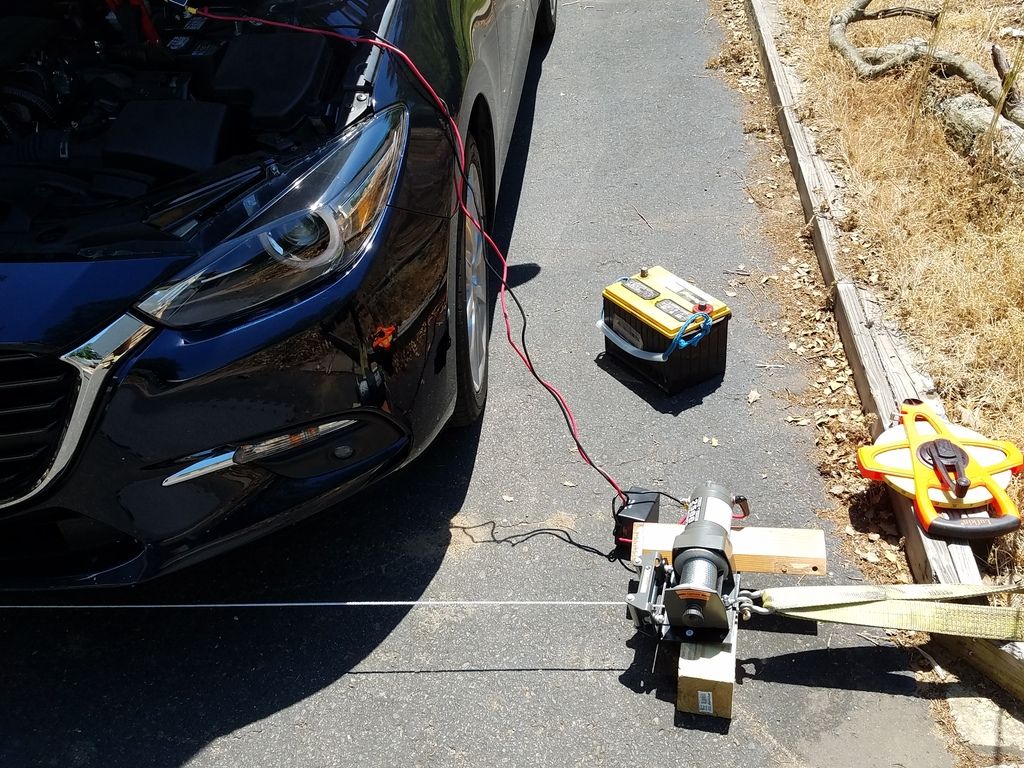 At first I was going to use a spare car battery that I have laying around but after some test rigging in the garage to make sure everything was running properly, it wouldn't power the winch at the test point. To make sure I had a clean source of power, I hooked it up to my wife's brand new 2017 Mazda 3. Yep, we had a grand total of 70K worth of late model cars on hand just to do this test. At BinDerSmokDat labs, we spare nothing to make sure a test goes right! With plenty of juice and a load rating that is 5X that of the Warn and 2X that of the Maasdam this winch was really quick. It pulled in the load in just 00'48". You read that right. 48 seconds to move the load 21 feet. That was by far the quickest test. There was a downside. At that speed, it was impossible to guide the cable onto the drum in nice layers, at one point a lump of cable formed at one end because the mobile winch platform wanted to lean towards the motorside. No amount of force on the strap would get it to feed evenly of the drum. So I just didn't stop and let things take their course. This led to some gouging on one of the rollers on the fairlead, but the cable was OK.
I later had to unspool and then rewind the whole cable to get a nice even wind on the drum.
If the winch was permanently mounted or if I had pulled it shorter bursts instead of one long pull, this may have been avoided. The portable mount I rigged was very unwieldy and only served to show how well balanced the Warn set-up is. Still, with some tinkering I think a portable solution for the HF winch is possible.
Pull #5
For the Warn to be viable, I felt that I needed to be certain that I could get more than one pull out of a single battery charge of the Makita. To that end I performed a second test. I had let the Makita drill and battery cool down to ambient (about 84F at the time of the second test) and I did NOT put the Makita back on the charger. The second time around I felt like it went a lot slower, but that was probably just because I had seen the HF eat 21 feet of cable in less than a minute. When the full pull was reached the second Makita test had reeled in the load in 2'10". That isn't bad, only 8 seconds slower than the first time. I have some newer 5.0Ah batteries on order because I'm down to my last battery, so I'm think they would easily deliver three or more pulls on a single charge.
My choice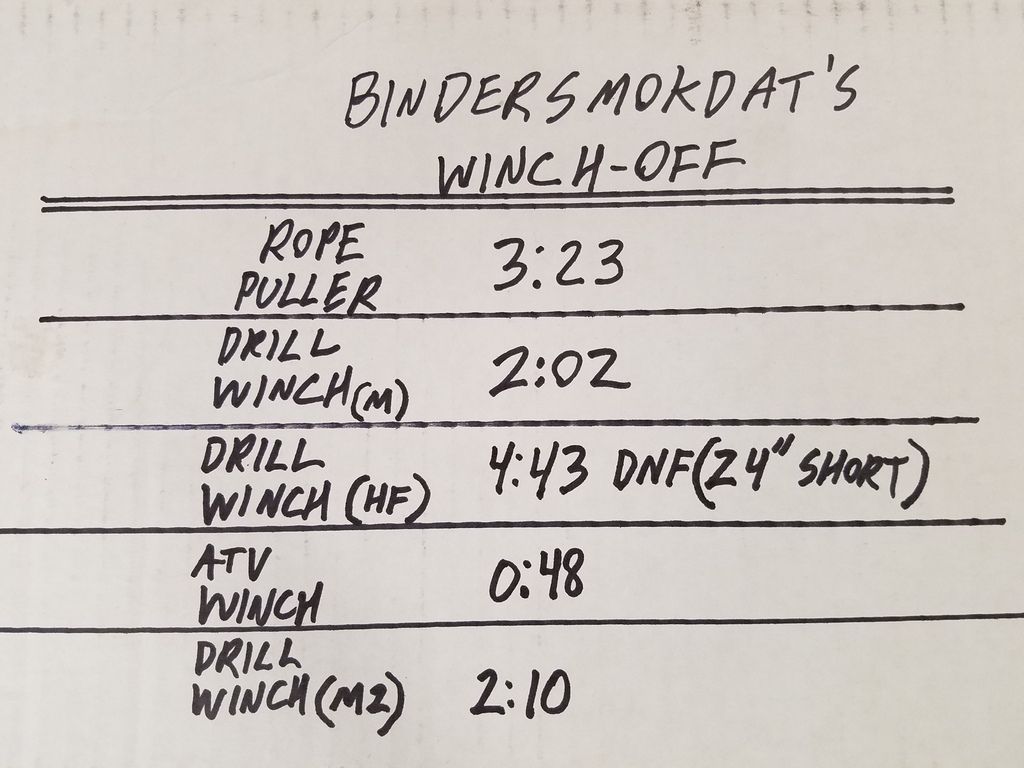 With all methods tested, I have to say that the winner for me was the Warn. It has the right mix of portability, ease of use and compactness I've been looking for. It didn't leave me exhausted like the Maasdam. It was simple and easy to use. It's not as heavy and unwieldy as the HF winch. It pulls slow enough that you can wind the cable onto the drum and because you control the speed by the drill, it can go as slow as you need, but still quick enough that you aren't there all day winching. In the event I hurt myself in an off-road mishap, I like knowing I can right the bike and get it going again with an injury. That might not be possible with the Maasdam. I have to admit that the speed and power of the HF is hard to beat. I might have to rig up something to make that more portable and as easy to use as the Warn. The downside of the Warn is you might need to use a snatch block for higher load pulls, which will slow things down further, but for most stucks, 500lbs is more than enough.
One common "stuck" we encounter on the NJ off-road rides is the "sideways rut finder." Someone gets into a hole full of water or mud and finds the one rut that yanks the hack wheel and the rig just gets complete perpendicular to the trail. In these instances we usually need to drag the bike around in the hole to straighten it before an attempt can even be made to winch/pull it out. I see the Warn being handy in that it can be carried to the stuck bike and do a couple of quick pulls, like one on the rear to straighten the bike and then one out front to pull it out of the hole. In these cases a bike mounted winch is limited. You don't have anywhere to winch to in the direction the bike is facing, because the trail is tree lined, and or there are steep sides to the whole. You'd at best need to rig up a snatch block or two to direct the force of your pull. In a worse case scenario, you simply wouldn't be able to use the winch without the line running into the hack or front wheel.
The Warn will definitely be in my trunk on the next trail ride. But I'm going to make sure that ReCycled has his Maasdam as a back-up, just in case.